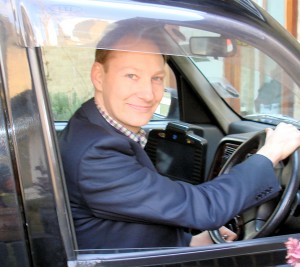 David is a qualified London Taxi driver, having obtained the world's most difficult licence in order to have the right to ply for hire with the famous 'London black cab'.
David is also qualified as a London Taxi Guide (by the Worshipful Company of Hackney drivers) and is able to conduct tours in central London.
Born in France in the Picardy region, David has been living in central London since 1991 and has been organising London Taxi Tours since 2009.
David is able to deliver the facts and history of London in a  fun way full of enthusiasm. Whatever your interests: the Royal Family; British food; modern art; shopping; or London's secret places; David will take you there.
Taking a taxi tour with David will kick-start your stay in London by showing you both the traditional tourist attractions from a different perspective, and by giving you a glimpse of the places most tourists don't get to see.